Key Return Service
Get a safe key return service by registering your Yoogo keychain.
All Yoogo keychains are engraved with a serial number. Your Yoogo is unique and provided with information so you can prove it's yours. A stamp inside the package provides the product's serial number and a linked control number that you will use for the registration.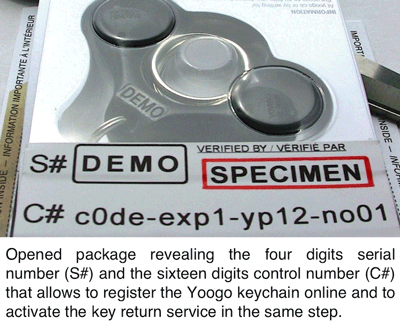 It is easy to register you Yoogo keychain. Create an account, login and simply enter your serial number and control number to link your new keychain to your account. 
Then, once logged in, only you can prove that your Yoogo keychain is yours to declare it Lost or Found.
So, if you lose your keys, login and declare them lost. If you find them yourself, simply come back and declare them found.
But, if someone finds your keys before you, there is a big chance this person will end in this page and click on:
In this case, we will contact you shortly via the email address associated to your account. So you can stop searching for them.
We will retrieve your keys to send them back to you and will make sure that your identity will remain confidential*.
*: This key return service is totaly confidential. A found keychain is first received at our mailing address to then be return to the owner. The personal information of both, the owner and the person who found the keys, remains private and protected.